This past weekend was spent in the mountains of Colorado.  Stella and I lived outside of Steamboat Springs, CO before moving back to NY.  We lived in Hahn's Peak on a beautiful piece of property that sat at 8600 ft!  Colorado is having it's worse fire season on record and it has been hot and dry, but that all changed this past weekend.
Saturday morning we headed over to the ski mountain and rode the gondola up to mid mountain for a picnic hike.  We were treated to huge views, comfortable temperatures and lingering clouds.  We stopped about half way to have lunch. 
After lunch, as we were heading back to the gondola area we heard the sirens, a storm must be coming in and lightening must have been spotted.  We picked up the pace, but by the time we got back the gondola had been shut down due to weather – we could see the approaching storm coming off the Flat Tops.  We waited for the shuttle to come up from below.  By the time we made it back down to the bottom the storm had hit.  The really nice thing about storms out in Colorado, at least in this area is that they are usually followed by a rainbow – and we were not disappointed!
The rain let up enough for us to decide that we should head over to the rodeo.  Steamboat Springs in part of the Pro Rodeo circuit
and every Friday and Saturday night for most of the summer the rodeo is in town.  We were able to find some seats in the covered area and just in time because the rains came on heavy!  No one complained – the rain was needed, but it was a muddy arena for the cowboys and animals!  One of the really fun things they have
during the rodeo is the calf scramble and the ram scramble.  In between events the kids all go down into the arena and they chase a calf and try and get the ribbon off the tail and then a little later in the night they do the same with a ram.  The kids all looks forward to it and this time what made it all the better was the rain and the mud – Stella had some much fun, was covered in mud and even got some in her eyes!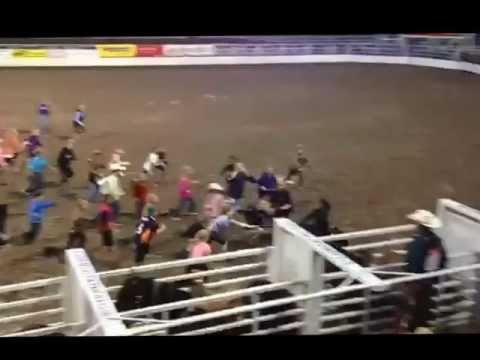 Sunday was a day spent in the pool and then a great lunch along the river – until the rain came again – with thunder and lightening!  It is always nice to get away and it makes coming back home all the better!
Copyright secured by Digiprove © 2012