Last summer I spent many an afternoon running around the dirt track in the park.  I was running around the track, not as part of my exercise routine, but holding Stella's bike up and teaching her how to ride.  When becoming a parent – I have to say I was oblivious to all the jobs I would have and all the teaching hats I would wear.  There are so many things that I just take as a given that I can do – run and kick a ball, walk, ride a bike, ski, swim, climb the monkey bars, take a shower – and the list goes on and on.  Last summer Stella got pretty good at riding her bike – but mostly around the track. Our town has a lot of steep hills and crazy drivers!
This spring it was back to riding and mastering.  Stella can now ride her bike, but she can't get started!  She has trouble balancing herself, the bike and pushing off to get going.  She got pretty frustrated with it and pretty much put her bike away and was using a very old scooter – really meant for a 4 year old – but that is what she wanted to use.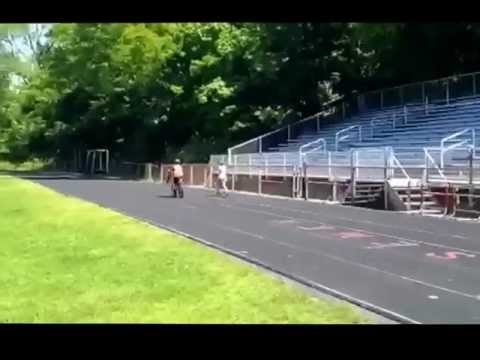 While at the Jersey Shore, Gail rides her bike along the boardwalk every morning and I joined her a couple of times and I was telling her about the frustration Stella was having and she mentioned they had a scooter.  When we got back we asked Stella if she wanted to ride the scooter and she said no, but could she ride a bike.  Jeff, Gail's husband, took a bike out of the garage, adjusted the seat and they headed to the sidewalk – the bike was just a little too big.  They headed to the basement and there was a bike her size – but it needed air and a little work – it would have to wait until the next day.
The next day came and Stella spotted the scooter in the garage – she wanted to ride it!
Again we headed to the sidewalk and I demonstrated how to ride it – she got on and she was off.  She never put her other foot up, but just kept pushing herself with it.  She did this for the first outing.  On the next outing – I showed her how to balance.  She tried it, practiced and got it!  Then any chance she got she was out to the garage (she even figured out how to open the garage door – manually) on the scooter and off!! She got to know neighbors, made friends and we have no idea how many times she road around the block.
To explain about this scooter – it is an Amish Scooter.  Jeff was traveling in Pennsylvania with his brother and they were going through Amish country – it must have been date night, because he said all the kids were riding them and they were all polished up.  He came home told Gail about them and they decided to buy one. This scooter has a basket, rides low to the ground and the wheels are designed so the girls, who wear long skirts – will not get their skirts stuck in the wheels.
Stella asked if we could get one of the scooters so she could ride it
to school and to her after school program instead of taking the bus – I asked Gail where they purchased one and she offered for Stella to use the one they had for the year!  When I told Stella she was beside herself.  On the last day she road it on the boardwalk – people stop and stare.
We got home and she has been riding it everyday!  Her friends, and their parents, all think it is so cool and want one – I have even snuck a couple of rides! One of the great things about the scooter is that there is a hand brake.
We went to the hardware store – I walked, she rode – so we could get a cover for it – they measured it and a tarp was purchased.  When we got home, the rain was coming, we took the tarp out and it didn't cover it!  We will figure something out.  I also had to show Stella how to use a bike lock – she has decided she is going to wear the key around her next everyday!
If you are interested in finding out more or want to purchase one http://www.hoffman-house.com/store/store.php/categories/Amish-Scooter
Copyright secured by Digiprove © 2012