It has taken several months to get this put together, but last night we had our first Kids Can Cook class.  Four students showed up, which worked out well for the first class and getting our feet wet.  The class was 2 hours long and we made pizza from scratch – that included the crust and sauce.  We used the pizza recipe I have shared before on the blog and then a simple, fast sauce recipe.  Not knowing the experience of the participants, I wanted the sauce to be simple and need nothing diced, chopped or cut up.  Each student made a pizza a little bigger than a personal size and then were able to bring the rest of their dough home and show their family what they can make!
Quick Tomato Sauce Recipe
Ingredients
1 28oz. can diced, organic tomatoes
5 – 7 cloves of garlic
1 Tbl coconut oil
Tomato paste
Fresh basil
Herbs & Spices (we used thyme, oregano and an herb mix)
1. Peel the garlic cloves.
2. In a large sauce pan, heat the coconut oil.
3. Add the garlic and saute.  Instead of chopping the garlic I placed it in a garlic press – the kids liked this.
4. Saute the garlic, but do not let it brown.
5. Add the diced tomatoes, stirring to mix with the garlic and heat up.
6. Once heated add the basil, tear it up a little. Let the sauce simmer for about 5 – 10 minutes.
7. Add the spices and herbs.
8. If you want it thicker add some tomato paste.  (Don't want to waste what is left of the tomato paste?  Spoon it out by the tablespoon onto a cookie sheet and freeze. Once frozen place in a freezer bag – take out what you need later on – no waste!)  Stir.
8. Turn the heat off and allow to cool slightly.  Using am immersion blender, puree the sauce to the consistency of your liking.  I prefer mine to have very little chunks.
This recipe made almost a quart of sauce.  Store any leftover in a mason jar in the fridge.
The kids really enjoyed themselves and were asking when the next class would be and what were we going to cook.  As we
waited for our dough to rise – it was off to the kitchen to clean up our mess.  After the sighs of "do we have too", they set up an assembly line and when I said it was time to go back to pizza making they wanted to finish the dishes first!
We video taped the class and I spent a good amount of time editing all the footage together.  I got it down to about 10 minutes – so remember this is a novice editor, but enjoy our fun!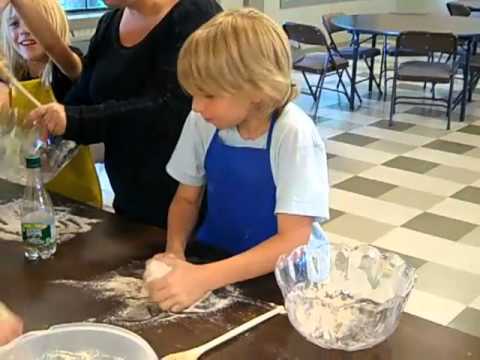 Thank you to everyone that helped put this together: The Village of Sleepy Hollow, Jetta and Gail!
Copyright secured by Digiprove © 2012